PHILOSOPHY 
The FSU Emergency Management program seeks to involve the participation of students to the fullest extent possible.
There are several ways to get involved:
CERV (Campus Emergency Response Volunteers)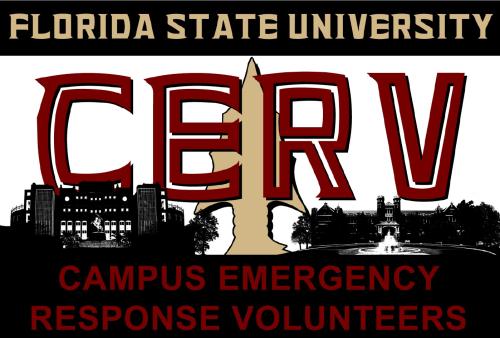 The Division of Emergency Management has partnered with the FSU Emergency Management & Homeland Security Program to organize and train a corps of volunteer responders that can support campus public safety initiatives & response efforts such as:
Search & Rescue                 Evacuation                Drill & Exercise Support
Triage                      Sheltering                   Special Events
         First Aid                    Providing Direction        Preparedness Education
Visit our CERV page for more information.
Academic Credit Interns 
 Students seeking internships for academic credit are welcome at FSU Emergency Management.  These positions are custom designed to meet the mutual needs of our office, coupled with requirements set forth by the student's academic program.   
We are not accepting internship applications at this time. 
For more information about an internship within FSU-EM, please review our Internship Guide or contact us at: contact@emergency.fsu.edu.
Federal Work Study
The Federal Work Study program (also known as FWS or simply Work-Study) is a federally funded program that assists students with the costs of education. The Federal Work Study Program helps students earn financial funding through a part-time work program. Contact the FSU Office of Financial Aid to determine your eligibility to receive FWS financial aid.
Student Government Association
The SGA has an Office of Campus Security which works closely with the FSU Public Safety departments to ensure the safety of students on campus.
title-inside title-centered
2