Basic Information
A Flood is an overflow or deluge of water that causes or threatens loss of life and property and damages the environment.
Types of Flooding
Flooding can take many different forms:
Flash Flooding - The term "flash" means that the flooding can occur rapidly with little to no warning. In most cases, the flood zones on campus and throughout Tallahassee are prone to flash flooding. This means that by the time we detect the water rising, it will rise so rapidly that it is too late to do anything about it. ;Often as quickly as the water rises, it will dissipate. Never attempt to walk or drive through flash flood waters. Just a few inches of fast moving water can wipe you off your feet or sweep you car off the road. Don't risk your life to try and save your car. It's just not worth the risk. That is what insurance is for. If a Flash Flood Warning is issued by NWS Tallahassee and covers the FSU Main Campus and/or FSU Panama City Campus boundary, a FSU ALERT!: Flash Flood Warning! will be issued
Urban and Small Stream Flooding - This terminology relates closely with flash flooding. Urban areas, such as FSU's campus and the city of Tallahassee, have been so highly developed that there is little opportunity for rainfall to soak into the ground. Instead, all the rainfall flows into stormwater systems, drainage ditches, canals and small streams. When those stormwater systems become overwhelmed, localized flooding can occur. There are numerous places throughout Tallahassee that are notorious for urban flooding during most heavy downpours. "Sheet Flow" can occur in places that you might think are high and dry. Areas that are not even listed in a designated flood zone, or no where near a drainage path can still have standing water simply because the water is coming down so fast, it has no where to go.
Areal Flooding - "Areal" flooding is terminology used by the National Weather Service to indicate the potential for flooding in typically low-lying areas and open fields. This is very similar to urban flooding except that it typically occurs in more rural areas. The concept it the same though: there's simply too much rain for the surface to absorb or drain properly, resulting in areas of standing water.
Riverine Flooding - This refers to flooding which occurs along major streams and rivers. No FSU properties reside in a riverine flood basin, however the region has many rivers including the Ochlockonee, St. Marks, Wakulla, Aucilla, and Apalachicola Rivers. In some cases, river flooding can close major roadways into Tallahassee. For example, past flooding along the Suwannee Rivers has closed Interstate 10, US-90, US-19 and other major roads blocking access to and from the Florida Peninsula.
For more information about North Florida river flooding, click here.
Coastal Flooding - For properties right along the Gulf of Mexico, Atlantic Ocean,& and their bays, coastal flooding can occur. This includes at FSU's Panama City campus, Coastal and Marine Laboratory, and Ringling Museum of Art (Sarasota). Although typically associated with tropical storms and hurricanes, coastal flooding can occur at these locations due to other non-tropical storm systems. For more information about coastal flood zones at these FSU facilities, visit our Tropical Storm & Hurricane page.
Flood Preparedness & Response
Flood Insurance
If you own your property, did you know that your homeowners insurance policy does NOT cover flooding? You need to obtain a separate flood insurance policy.
If you rent, your landlord's flood insurance policy (if they even have one) does NOT cover your personal contents. So, if you have a lot of expensive stuff, like electronics (TV, gaming system, stereo, smartphone, tablet, laptop, desktop, amplifier, etc.), then you really should consider getting a contents-only flood insurance policy. It can cost as little at 15 cents per day. Become FloodSmart, learn more about flood insurance here.
Moving Flood Water
During flooding, the greatest threat comes from moving water. The deeper the moving water, the greater the threat. People should avoid driving in moving water, regardless of the size of their vehicle.
Pooling Flood Water
Heavy rain causes flood waters to rise and pool on streets and throughout neighborhoods. In these situations, be aware of the following:
Road surfaces become obscured, and drivers can unknowingly steer into a deep body of water, such as a canal or pond.

Electricity from streetlights and power poles may be conducted through standing water, causing a deadly shock to anyone coming in contact with it.

Children playing in contaminated standing water can become sick or be bitten by snakes or floating insects.

People coming into contact with floodwater should thoroughly rinse any exposed body parts with soap and clean water.
Contaminated Water Supply
Drinking contaminated water may cause illness. You cannot assume that the water in the hurricane-affected area is safe to drink. Listen to local announcements on safety of the water supply.
If your public water system lost pressure, a boil water notice will likely be issued for your area.
People in these areas should take precautions to avoid contaminated water, especially individuals with private wells. If your well is in a flooded area, your water may contain disease-causing organisms and may not be safe to drink.
The Florida Department of Health (DOH) recommends one of the following:
Boil the water before drinking, holding it at a rolling boil for one minute.

Disinfect it by adding 8 drops (about 1/8 tsp – this would form a puddle about the size of a dime) of unscented household bleach per gallon of water and then let it stand for 30 minutes. If the water is cloudy after 30 minutes, repeat the procedure.

Use only bottled water for mixing baby formula.
After the flooding subsides:
Disinfect your well using the procedures available from your local health department or provided on the DOH website here.

Have your water tested by your local health department or by a laboratory certified by the state to do drinking water analyses.
Contaminated Food
Do not eat any food that may have come into contact with flood water. Discard any food without a waterproof container if there is any chance that it has come into contact with floodwater. Undamaged, commercially canned foods can be saved if you remove the labels thoroughly, wash the cans, and then disinfect them with a solution consisting of 1/4 cup of bleach per gallon of water for clean surfaces. Re-label your cans, including the expiration date, with a marker. Food containers with screw-caps, snap lids, and home canned foods should be discarded if they have come in contact with flood water because they cannot be disinfected.
Contaminated Items
Discard wooden cutting boards, plastic utensils, baby bottle nipples and pacifiers. There is no way to safely clean them if they have come in contact with contaminated flood waters. Thoroughly wash metal pans, ceramic dishes, and utensils with soap and hot water and sanitize by boiling them in clean water or by immersing them for 15 minutes in a solution of 1/4 cup of household bleach per gallon of water.
Hygiene
Basic hygiene is very important during an emergency period. Always wash your hands with soap and water that has been boiled or disinfected and cooled before eating, after toilet use, after participating in cleanup activities, and after handling articles contaminated by floodwater or sewage.
For more information, contact your local county health department or visit the Florida Department of Health or the Florida Department of Emergency Management.
DURING A FLOOD
Stay Informed: Listen to radio, television, FSU ALERTS! and local authorities for updates
Get to higher ground: If you live in a flood prone or low lying area, get to higher ground immediately.
Practice Electrical Safety: Don't go into any room if water covers the electrical outlets or if cords are submerged. If you see sparks or hear buzzing, cracking, snapping or popping noises - get out! Stay out of water that may have electricity in it.
Avoid Flood waters: Don't walk through flood waters. It only takes 6 inches of moving water to knock you off your feet. If you are trapped by moving water, move to the highest possible point and call 911 if possible. Do NOT drive into flooded roadways or around a barricade; Turn Around, Don't Drown! Water may be deeper than it appears and can hide hazards such as sharp objects, washed out road surfaces, electrical wires, chemicals, etc. A vehicle caught in swiftly moving water can be swept away in seconds 12 inches of water can float a car or small SUV, 18 inches of water can carry away large vehicles.
Turn Around! Don't Drown!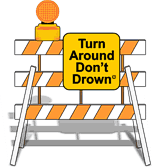 Each year, more deaths occur due to flooding than from any other storm related hazard. Why? The main reason is people underestimate the force and power of water. Many of the deaths occur in automobiles as they are swept downstream. Of these drownings, many are preventable, but too many people continue to drive around the barriers that warn them that the road is flooded. Water over a roadway makes it extremely difficult to see how deep it really is and what's underneath. Many people will drive off the road into drainage ditches or retention ponds. In other places, moving water may have created erosion or sinkholes that weren't there before. It's simply not worth the risk.
How Deep is the Water? Whether driving or walking, if you come to a flooded road, Turn Around Don't Drown. You will not know the depth of the water nor will you know the condition of the road under the water.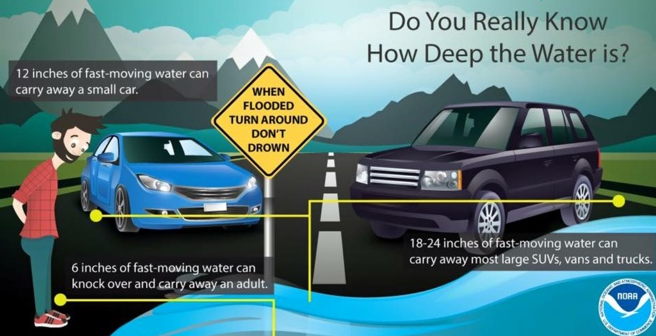 ---
Flood Zones on the FSU Campus
Most recently, flash flooding occurred on the campus of Florida State University on January 21, 2010. Dozens of vehicles were either damaged or destroyed and one person was injured. Flash flooding does occur on campus and throughout the Tallahassee community. (Click here to see photos from the 1/21/10 event.)
In 2001, during Tropical Storm Allison, a vehicle drove into floodwaters at the intersection of Dewey Street and Virginia Street, near Degraff Hall. The vehicle floated and was swept into a nearby stormwater culvert. A female passenger managed to escape and was rescued downstream near the Leach Center. However, the driver died and his body was recovered miles downstream. Enhancements have been made to prevent a vehicle or person from being swept into the drain, but flooding in this area is likely to occur again on our campus some day.
MAIN CAMPUS: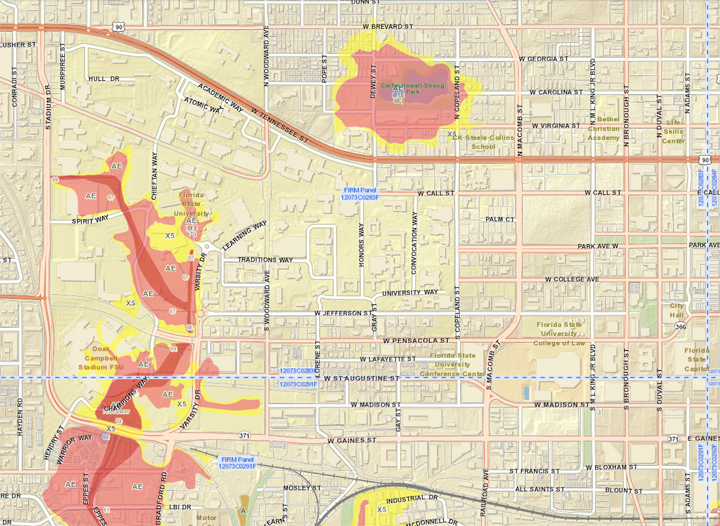 CHIEFTAN WAY - TULLY - LEACH - CIRCUS: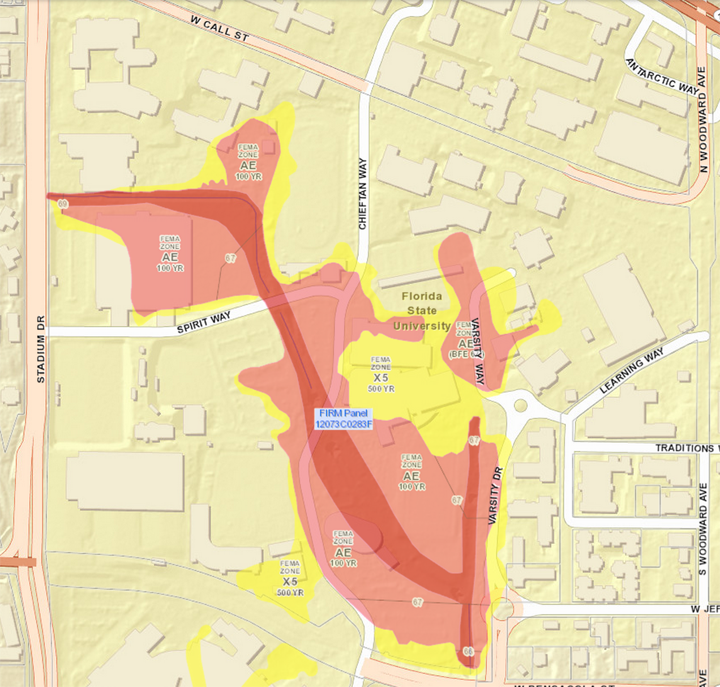 UNIVERSITY CENTER - DOAK CAMPBELL STADIUM - LAKE BRADFORD RD - GAINES ST: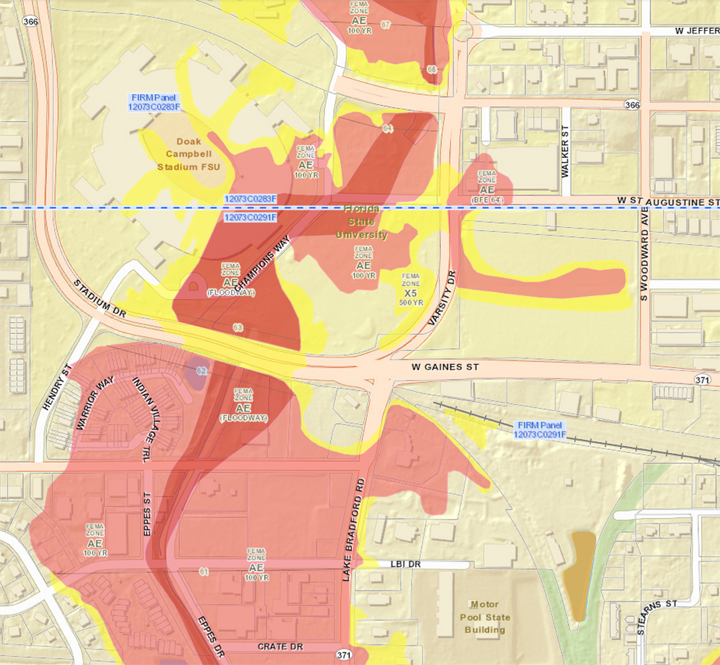 DEGRAFF HALL - VIRGINIA STREET - DEWEY ST: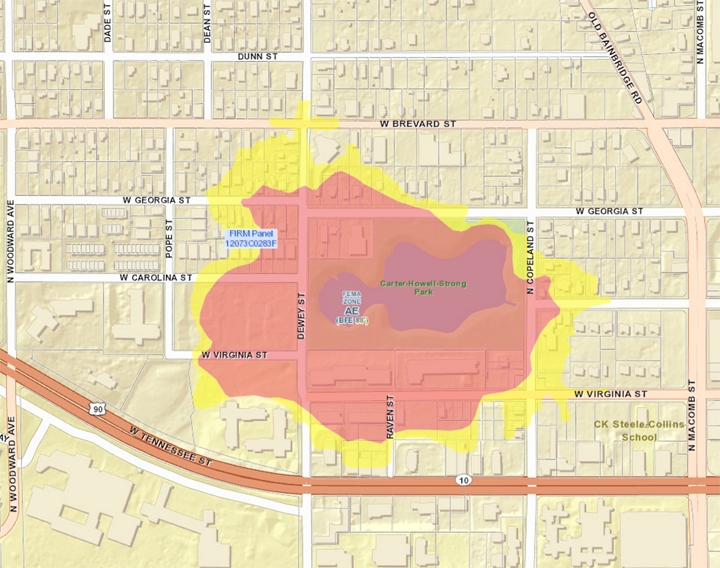 ---
Flood Zones Off Campus
Many areas in Tallahassee, Leon County, and neighboring counties are flood zones. To check your Leon County residence for flood threats, visit: Tallahassee Leon County GIS.
---