What is a Tornado?
A tornado is a violent whirlwind that usually develops in association with a severe thunderstorm. The winds in a tornado can exceed those measured in the most intense hurricanes. Wind speeds in an intense tornado are likely to rise above 200 miles per hour. These violent winds are what make tornadoes so deadly - they can uproot and snap trees, down power lines, move or pick up cars and trucks, and destroy homes. The paths of tornadoes can be very short, or they can extend for many miles. Not surprisingly, tornado ground speeds range from nearly stationary to over 50 miles per hour. Tornadoes that form over a body of water are called waterspouts.
When is Florida's Tornado season?
Tornadoes in Florida can form in a variety of ways, and in all seasons. However, many of Florida's tornadoes occur in the Spring and Summer months. Summer season tornadoes (June-September) typically occur along strong sea breeze boundary collisions, as well as from tropical cyclones. Spring season tornadoes (February-May) can be more powerful and deadly as they are spawned from severe supercells along a squall line ahead of a cold front. These types of tornadoes are also possible in the fall and winter months (October-January). Florida tornado climatology shows us that strong to violent tornadoes are just as likely to occur after midnight as they are in the afternoon.
Fujita Tornado Damage Scale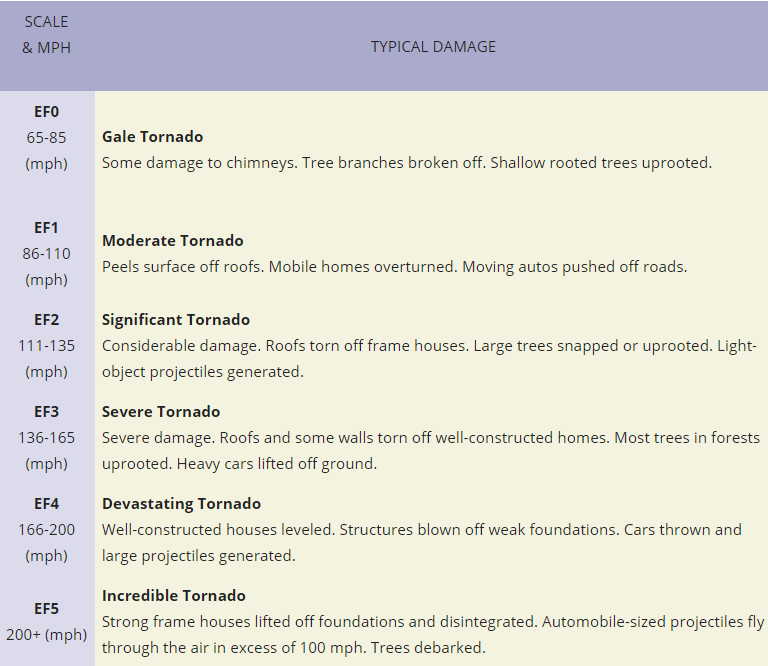 Difference between a Watch and Warning
- Tornado Watch - Issued to alert the public that conditions are favorable for the development of tornadoes in and close to the watch area. These watches are issued with information concerning the watch area and the length of time they are in effect.
- Tornado Warning - Issued by local NWS offices to warn the public that a tornado has been sighted by storm spotters or has been indicated by radar. These warnings are issued with information concerning where the tornado is presently located and what communities are in the anticipated path of the tornado.
During a Tornado
When a tornado warning is issued for campus, IMMEDIATELY SEEK SHELTER in the nearest well-constructed building, away from doors and windows. 
Try to reasonably place as many walls between you and the outside as possible. Reasonable does not necessarily mean burying yourself in a closet or under your bed. 
Seek More Information
Go to alerts.fsu.edu  to obtain the details about the warning, including: estimated arrival time, direction, duration, and estimated expiration time. Once the warning has expired, and there is no evidence of damage, you may proceed with your normal course of business.
More Information
title-inside title-centered
2